Los Angeles Lock And Key Event
Postponed
Stay tuned! We're working on getting a new date
[Originally scheduled for Fri, Oct 25 2013]

When
The Place
Suggested Ages

Cost

TBD

6:30-9:00 PM
ARRIVE EARLY

Suede Bar & Lounge
At Westin Bonaventure
404 S Figueroa Street, Los Angeles, CA 90071
Get a Map -- Website
All Singles
21-45
Age Details
WOMEN -- Online Tickets are available
MEN -- Online Tickets are available

CHECK-IN 6:30 PM!!

Info/Parking here



Come join us and Unlock Your Possibilities of meeting someone new!

New to town? A lot of Singles attending our events come solo so you will not be alone... You'll find it fun and easy to start a conversation with someone new at our event.

Suede Bar and Lounge

Tucked inside of the Westin Bonaventure Hotel, it's a romantic setting with red lighting, couches, and pillows throughout.
A popular hangout during happy hour for downtown professionals and an intimate venue for corporate/business and private parties.

DRESS CODE: TRENDY, SMART CASUAL
See here: Suede Dress Code

..:: FEATURES ::..

$4 Well Drinks, $4 All Beers, $4 Wine during the party

$4 small food plates until 8 PM

No cover

Valet $7 for 5 hours

NOTE: Email us to resend the confirmation if you don't receive it


For more information contact us at:
northla@lockandkeyevents.com 877-565-3836


Meeting new people has never been so much fun!!!

The crowd from previous Parties!

Venue Sponsors click here
Prize Sponsors click here
Can't Make These Lock and Key Events

®

? Try...
Los Angeles Speed Dating Parties by Pre-Dating™

Who:
When:
May 14, 2014 (Wednesday) 7:30 PM
Where:
Marina Del Rey, CA 90292
Price:
$34

Who:
When:
May 28, 2014 (Wednesday) 7:30 PM
Where:
Marina Del Rey, CA 90292
Price:
$34
Are you ready to check out a Lock And Key Event?
Our parties are designed to be interactive, EASY & FUN ways to socialize, meet your match...or just have a great time! Grab your favorite cocktail and get ready to Unlock Your PossibilitiesTM. We change a regular happy hour by adding the ULTIMATE ice breaker. With your lock or key, you can talk to anyone and everyone you want! It's that easy.
---
HOW IT WORKS
Your goal is to match the right lock with the right key
Do it and get a ticket for the prize drawing, more tickets = more chances to win!
You then get a new lock or key and go back into the fray to repeat the process
Find someone you like, stay and talk for a bit! Exchange contact info if you like.
Throughout your quest you'll meet 50, 100 or more people of the opposite sex.
Have questions? Read our Frequently Asked Questions page
---
READ TESTIMONIALS FROM PAST PARTIES
Click Here To See What They're Saying!
---
PRIZES! Every time you unlock, you can win prizes such as:
DIRECTIONS
Friday, October 25, 2013
Suede Bar and Lounge
404 S Figueroa Street, Suite 102
Los Angeles, CA 90071
(213) 489.3590
Suede Bar and Lounge is located at The Westin Bonaventure Hotel Lobby Level, Downtown LA (Entrance on Flower St., Between 4th and 5th Street). Parking Map here.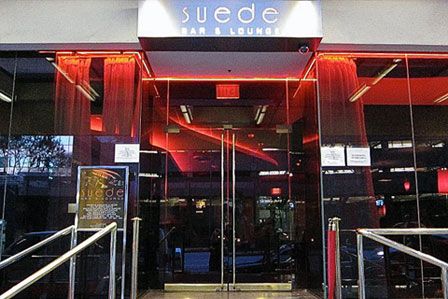 Click here for larger map
Arrive early to beat the line so you can meet as many people as possible
Hollywood-North LA: northla@lockandkeyevents.com
Customer Service: 877-565-3836
---
GUARANTEE A SPOT, GET A FREE DRAWING TICKET & MORE


Can't make it tonight?
We'll let you know when our next event will be. Plus, you can get tickets at members' price
GO HERE to be on our event listing!
---
PARTY FLYER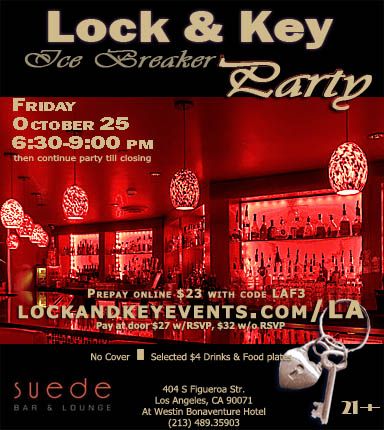 back to top